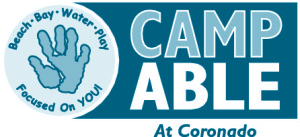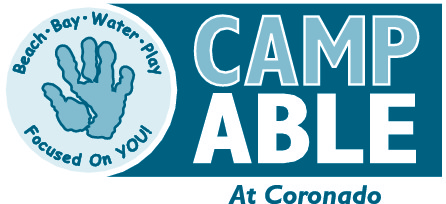 "Camp Able: Enhancing the lives of persons with disABILITIES
through outdoor recreation and play!"
Camp Able at Coronado is a fun-filled, beach-based aquatic day camp for individuals with diverse physical, emotional, and intellectual needs. The program includes sailing, canoeing, swimming, boogie-boarding, water play, crafts, singing, games, and campfires. Designed to accommodate children and adults with a wide variety of abilities, Camp Able at Coronado is a unique, exciting experience.
Each summer, Camp Able at Coronado serves and accommodates campers from across San Diego County and beyond. Our program provides campers with choices in their daily activities and encourages each individual to engage themselves in ways that are typically unavailable to them. The entire drive of each day's schedule is to create the awareness and understanding of the individual camper's abilities and to test those abilities in a highly supervised environment. This focus enables our campers to personally discover what they are capable of and increase the self-esteem and self-confidence necessary for exploring challenging pursuits in all aspects of life.
Camp Able at Coronado Advisory Board Mission Statement
"The Camp Able at Coronado Advisory Board is inspired to overcome financial barriers for campers in need, promote awareness, and ensure the future of camp for individuals with disABILITIES"
Thank You for your Generosity and Support
Schedule of Events
6:30
Check-In: Cocktails, Appetizers, Silent Auction & Raffle Begins
7:00 Welcome & Introductions
7:30
Dinner
8:00
Camp Able at Coronado Presentation
8:25
 Silent Auction & Raffle Closes 
8:35
Live Auction Event
9:00
Photo Booth Opens
9:10 Dessert Served
9:15
DJ & Dancing, Auction Checkout Begins, & Raffle Winners Announced
10:20
Last Dance; Photo Booth Closes
10:30
Thank you for attending; we hope to see you again next year! Please travel home safely.
Master of Ceremony
Mark Grant
No stranger to San Diego baseball, Mark Grant pitched for the Padres from 1987-1990. Grant is the current color commentator for the San Diego Padres' television broadcasts. Active in the community, he is currently serving on The Board of Trustees for the Rady Children's Hospital Foundation. He has been associated with the Cystic Fibrosis Foundation of San Diego since 1987 and works with the Down Syndrome Association of San Diego. Additionally, he serves as a spokesperson for St. Madeleine Sophie's Center in El Cajon, a vocational and educational center for adults with developmental disabilities.
Special Thanks
Special Thank You to Tonight's Entertainment:
Live Music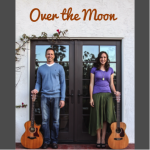 DJ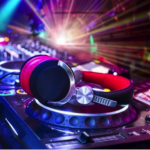 DJ Party Wit Me
Photo Booth

Special Thanks
Special Thank You to the following Vendors: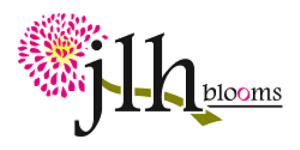 Special Thanks
Special Thank You to the following Breweries:
Special Thanks
Special Thank You to our Photographer:
YC Photography: Yrsina Colangelo-Gomes
Special Thank You to our Auctioneer:
Todd Stephenson
Special Thank You to the following Volunteers:
The Camp Able Advisory Board
Coronado Interact Club
Special Thanks
Special Thank You to the Following Table Sponsors:
A.O. Reed Company
The Dodge Family
Heritage Paving Inc.
The Julius-Yates Family
The Lamke Family
The McNatty Family
The Nettles Family
Mountain West General Contractors
Items Generously Donated By
AcuSport Health Center

Air & Space Museum

Angel's Salumi & Truffles

Archery House,LLC

Baby Clydesdale

Bang the Gavel

Barona Resort & Casino

Beads by Bobbi

BeFitLifestyle

Belly Up Tavern

Bikes & Beyond

Bird Rock Coffee Roasters

BJ's Restaurant

Blue Bridge Hospitality

Bluewater Grill

Bradford Renaissance Portraits

Burger Lounge

Café 1134

Callaway Winery

Candelas Restaurant

Carols By Candlelight

Chipotle

Chuao Chocolatier

Cohn Restaurant Group

Coronado Bliss Salon

Coronado Golf Course

Coronado Island Marriott Resort & Spa

Coronado Surf Academy

Cottonwood Golf Course

D'ames Day Spa

Dick's Sporting Goods

El Pollo Loco

Emerald C Gallery

Fish Market

Glutino

goodpeople.com

Grapeline Wine Tours

Heartland Jiffy Lube

Hedley & Bennett

Hennessey's Tavern

High Tide Bottle Shop

Homebrewer San Diego

Hornblower Cruises

In-N-Out

Jackie's Jams

JLab Audio

John Klein

Jimbo's

Kettner Exchange

Kipling

KUSI NEWS

La Jolla Playhouse

La Jolla Star

La Salsa

Lagunitas Brewing Company

Lamb's Players Theatre

Lazy Dog

Lemonade

Maritime Museum

Mayor Tanaka

MEDARTS Weight Loss Specialists

Men's Mojo

Miss Match

Mrs. G's Jellies

Museum of Contemporary Art

Natalie Ferdig

Nine-Ten Restaurant

Oakley

One Zen Life

OtterBox

Pamela Knudsen

Patio

Pete & Cathy Price

Phil's BBQ

Pier South

Poway Weapons & Gear

Rancho Computer Networks

Redbox

Reuben H. Fleet Museum

Root 75

Rubicon Deli

Ryan Bros. Coffee

San Diego Bay Wine & Food Festival

San Diego Chargers

San Diego Ice Arena

San Diego Paintball Park

San Diego Repertory Theatre

San Diego Zoo & Safari Park

SDSU Athletic Department

SDSU Aztec Shops

SDSU Viejas Arena & Associated Students

SeaWorld

Six Flags

Slater's 50/50

Social Cycle

Solare Ristorante

Solid Rock Gym

South Park Brew

Sprinkles

St. Mark Golf Club

Sweet Owl Desserts

Swell Coffee

The Bayer Family

The Cravory

The French Gourmet

The National History Museum

The Pettycord Family

The Reit Family

Tony by Tony Salon

Trader Joe's

True Food Kitchen

Twin Oaks Golf Course

Ultrazone Laser Tag

USS Midway Museum

Vintage Cinemas

Vons

Wahoo's

WD-40

Wilson Creek Winery

Yard House

Zumbar Coffee

Vigilucci's
Thank You for Your Support of Camp Able!
"What Camp Means to Me"
Thoughts from the Camp Able Advisory Board
Jen Lansford – Camp Director
"Camp Able means that I will have a place to call home every summer, where I can be a part of magical experiences with wonderful people that may not have the opportunity to do so without us.  To be a part of something so special allows the rest of the year to fly by until I can be home again."
Virginia Bayer – Vice President
"My favorite memory of Camp Able is the Deloitte Impact Day. We had 94 volunteers come from Deloitte to work on preparing Camp Able for the upcoming summer.  We procured, assembled, and repaired wheel chairs. We also cleaned life jackets, painted games, built storage shelves, cleaned out the office, and re-organized storage closets. We even cleaned up both the beach and bayside areas where the campers are on a daily basis. I was so happy to know so many folks cared about Camp Able and chose to spend the day with us."
Jillian Collins – Public Relations
"Camp means we take a moment to practice not only compassion, but nurturing tenderness while collectively sharing beautiful moments between campers and the sea. The experiences we create at camp give vibrancy to life, stir up a passion to care for others, and remind us that nothing is impossible. Where there is Camp Able, there is a way. People at camp get to be themselves, are fully accepted wholeheartedly, and relish in that recognition that is often hard to find in a fast-paced world. If only the rest of the world could be like camp!"
Rachel McNatty – Board Member
"Camp Able has been a part of my life for over 10 years. What it means to me is possibilities! At Camp no one is different; from the staff to the campers, we are all one team. We work together to make everything possible. If a camper is in a wheelchair and wants to go on a boat we work together to make it happen! If a camper is fearful of the ocean we work as a team to ease anxieties. Camp Able is truly one of my favorite places on earth!"
Jenelle Nettles – Board Member
"Camp is a fresh perspective on life in general to me. The joy I experience watching a camper do something for the first time is addictive. The smiles, giggles, squeals, and tears of joy keep me going all year long."
Michelle Pettycord – Board President
"As the mother of a young camper, I find Camp Able to be an extraordinary place.  My son, and so many others, is supported by the staff as he sheds the limits of everyday challenges. In the summer, I see campers experiencing pure joy and the freedom of inclusion as they participate in activities. The love and support of the people at camp is considered to be one of my family's greatest blessings."
Jessica Schwenk – Board Member
"The beauty of Camp Able is something that campers, family, friends, board, and staff alike feel in our hearts every day. This unique environment offers positive, uplifting experiences; giving our wonderful campers fond memories to hold onto for a lifetime. I was recently asked why I volunteer for Camp Able. The only response I could think of was, "…because I can!" For all who are a part of Camp Able, the "I Can" mindset is what keeps us going strong, together."
Heather Singleton Samokhvalof – Board Member
"Camp Able to me is freedom. I was only 20 years old the first time I went to camp. I saw these adults, who usually lay in hospital beds all day, just LIGHT UP. They were able to get into a sailboat and feel the wind in their face… Watching the looks on their faces… Freedom. Freedom from their hospital beds, freedom from their chairs… freedom from their disABILITIES. Then- lunchtime… the entire staff dressed up is silly outfits and sang and danced around all the campers- I thought, "this place is magical- I want to work here"… and, I did."
Donna Tanaka – Board Member
"Camp Able means my grandson Mikey, who has cerebral palsy, gets to experience the energetic morning camp sing-a-longs, the fierceness of a rogue wave, the calmness of a bay sail, the coolness of a dip in the bay, or a little rest in a personalized sand chair… sounds like a cool camp to me."
Vickie Perdaris Torvinen – Board Member
"Camp Able offers the ability for adults with developmental disabilities to enjoy the ocean and water scenery just like anybody else could. It is a privilege to provide this camp, revealing an ocean environment along with activities and water play for persons with intellectual disabilities. I grew up in South Bay and this one source that enables me to share where I grew up and what I love."
Jessica Nascimento – Treasurer
"Camp Able means reminding people every day, what they CAN do in a society where they are constantly being reminded what they can't do.  Camp has taught me so much about myself and how I can contribute to my community here in San Diego"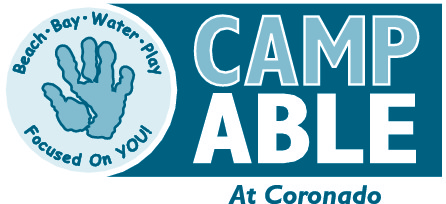 Contact Information
Website: www.campableatcoronado.org 
Phone: (619) 736-1225
Email: director@campableatcoronado.org
Physical Address: 5000 CA-75, Coronado, CA 92118
(Located bay side within Crown Cove at the Silver Strand State Beach)
Mailing Address: P.O. Box 313, La Mesa, CA, 91944
Sponsorship
To inquire about corporate sponsorship opportunities,
contact Camp Able at Coronado at (619) 736-1225